2020-12-28 14:24
lazy load images using lazyload-rails gem
Fixes #7919
Lazy loaded images by using lazyload-rails gem. Converted the img tags into image_tag helpers for the gem to function properly.
[x] PR is descriptively titled 📑 and links the original issue above 🔗
[x] tests pass -- look for a green checkbox ✔️ a few minutes after opening your PR -- or run tests locally with rake test
[x] code is in uniquely-named feature branch and has no merge conflicts 📁
[x] screenshots/GIFs are attached 📎 in case of UI updation
[x] ask /reviewers for help, in a comment below
GIFs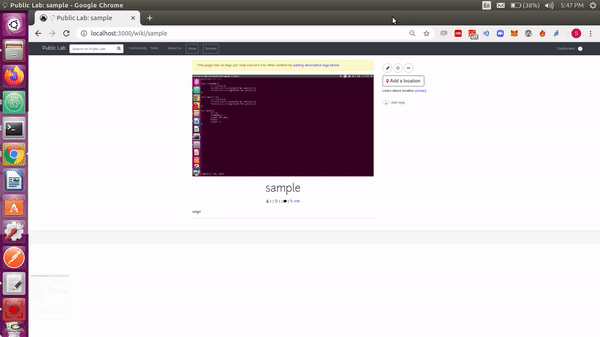 Thanks!
该提问来源于开源项目:publiclab/plots2
点赞

写回答

关注问题
收藏
复制链接分享
邀请回答
8条回答
Reading y'all vet this just made me so happpppy! Good work. Excellent, nuanced points <3

Hey, i just want to say the discussion and priorities of maintainability and the vetting and everything that happened in this PR is AWESOME 🙌🙌🙌🙌 ❤️❤️❤️

Hey I have added some more routes now can you please review this? :sweat_smile:

Hey I totally understand your concerns over this :sweat_smile: and I actually did check it out against the vetting points by so the thing is that although this gem is not updated as frequently, the current implementation is something that won't need updates in the sense it is sufficient in itself. It is also the only implementation for lazy-loading in rails applications. And after doing a lot of searches, I could only find this tool being mentioned in blogs to speed up rails apps. The documentation is sufficient, there aren't any rollbacks in the commits as such and the license is MIT. Since, it is the only option available we might just have to go with it

great job finding the gem. I have a few concerns with it though...its seems that its not frequently updated(last updated 14 months ago), it is crucial we look at this as it could hinder our future updates..also guidelines on vetting libraries https://github.com/publiclab/plots2/issues/8019 ...I am not discarding it just giving you smth to think about/ consider . Thanks

just checking in to ask if for the placeholder should we have like an animated spinner my only concern is that the size of it should be small. Or we can leave it at the gray placeholder as well :sweat_smile: Thought? :v:

Merging #8043 into master will increase coverage by 0.15%. The diff coverage is n/a.

diff
@@            Coverage Diff             @@
##           master    #8043      +/-   ##
==========================================
+ Coverage   82.34%   82.49%   +0.15%     
==========================================
  Files          99       99              
  Lines        5737     5737              
==========================================
+ Hits         4724     4733       +9     
+ Misses       1013     1004       -9     


| Impacted Files | Coverage Δ | | |---|---|---| | app/controllers/admin_controller.rb | 81.85% <0.00%> (+3.79%) | :arrow_up: |